Title
Spring Into Milestones
In early February, Juilliard had its first snow day in several years, inspiring many members of the community (some of them experiencing snow for the first time) to get out in the midst of it. Congratulations to second-year master's organist Alessandro Pittorino, who won the #juilliardsnowday photo contest with his picture of third-year pianist Jiaqi Long. Many thanks to them and to the other entrants; some of their submissions are here. 
Body
Snow aside, spring is approaching and with it come several milestones. On March 2, Juilliard415 embarks on a world tour of sorts that starts in Alice Tully Hall, stops in New Haven, and winds up in India for the Historical Performance ensemble's first trip to the subcontinent. The troupe will be performing works by Rameau and Bach as well as a world premiere, a rare occurrence for a group that specializes in Baroque music. That piece, by Reena Esmail, was commissioned by the Yale School of Music; singers from Yale Schola Cantorum will also perform it. Esmail is a Juilliard composition alumna who's getting her doctorate at Yale. Of Indian-American heritage, she also spent time in India on a Fulbright grant studying Hindustani vocals, which she incorporated into her piece. 
Speaking of Fulbrights, just before press time, we learned that Juilliard—which has had Fulbright winners in each of the last eight years—ranked highest of all special-focus four-year institutions in terms of Fulbright grantees. Juilliard's Fulbright program administrator is José Garcia-León.
Susan Jackson
Editor in Chief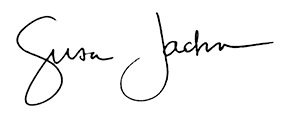 ​