Title
The Latest on Faculty, Staff, and Students
Body
Edward Bilous (MM '80, DMA '84, composition) will compose an original score for Sacred, a film that explores religious life throughout the world. The film, which is being produced by WLIW21, is scheduled to premiere in 2015 at Radio City Music Hall and at the Israel Museum in Jerusalem.
From October 11 to 13, Dance faculty member Janis Brenner and her eponymous company perform her Where-How-Why Trilogy and The Mind-Stuff Variations, the latter featuring live music by Dance faculty member Jerome Begin, at the 92nd Street Y's Fridays at Noon series and inaugural Dig Dance series. Performers include Esmé Boyce (BFA '09, dance) and Sumaya Jackson (BFA '08, dance). Also performing will be Lilja Ruriksdottir (BFA '13, dance), whose Wait, featuring live music by Jan Stoneman (BM '13, composition), will also be on the October 12 program.
In July and August, Lawrence Rhodes, the artistic director of the Dance Division, had a five-week teaching assignment with the Lyon (France) Opera Ballet.
Voice faculty member Edith Wiens is scheduled to receive an honorary doctorate from the University of Saskatoon (Saskatchewan) this month. In November, she is scheduled to  adjudicate the first Beijing International Voice Competition. 
STAFF
In August, Diane Bruessow, who works in Health and Counseling Services, was made director-at-large of the American Academy of Physician Assistants. She is also an active member of the L.G.B.T. Caucus of the American Academy of Physician Assistants.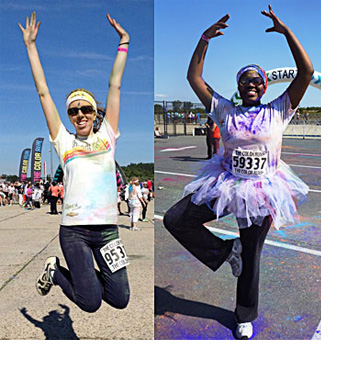 In September, Melissa Hoodlet (far left) and Nichole Knight (left), the Student Affairs coordinator and associate, respectively, participated in Brooklyn's Color Run, a 5K fun run in which onlookers douse runners with colored powder.
Katherine Howell, administrative assistant in the Office of Career Services, is the soloist on I Cried Out to the Lord, a collection of Dmitry Bortniansky's sacred concertos (Naxos). In August, Howell played Ottavia in dell'Arte Opera Ensemble's production of Monteverdi's L'incoronazione di Poppea. She will also sing with the National Chorale at Avery Fisher Hall during its 2013-14 season, which includes concerts on November 15, December 16, March 14, and April 14.
In August, Jennifer Wilcox, the electrics shop supervisor, was the production manager for the New York International Fringe Festival. Wilcox is also the managing director of theater company Playlab NYC, which in August produced Blizzard '67, about the 1967 Chicago blizzard, at New York City's Robert Moss Theater. She was also the lighting designer for the production.
STUDENTS
Jazz students Braxton Cooke, Lukas Gabric, and Dean Tsur were among 14 semifinalists in the Thelonious Monk International Jazz Competition. In addition to recognition by the panel of judges, the winner of the competition will receive a $25,000 music scholarship and a recording contract with Concord Music.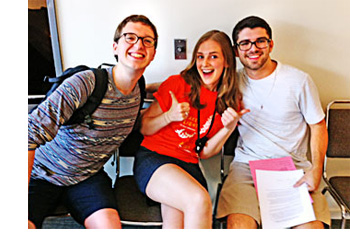 First-year master's violist Marie Daniels (BM '13, viola) was a resident assistant during the National Youth Orchestra's inaugural summer residency and tour, which included concerts in Washington, D.C., Moscow, St. Petersburg, and London. Other first-year students who participated in the 120-member orchestra were violinists Annika Jenkins, Zeynep Alpan, Mariko Shimasaki, and Amy Semes; violist Bob Donowick; oboist Mitchell Kuhn; bassists Sebastian Zinca and Andrew Downs; and trombonists Brian Wendel and Jacob Mezera. Pictured, from left: Kuhn, Daniels, and Downs.
Doctoral collaborative piano student Dan Kurland (MM '13) spent the summer as an assistant coach in the young artists program at the Glimmerglass Festival, where he worked on Camelot and Verdi's Un giorno di regno in a new English translation, called King for a Day.
Artists Diploma student Louis Schwizgebel (Graduate Diploma '12, piano) won second prize in the 2012 Leeds piano competition.
This summer, Orchestra Iowa announced that third-year violinist Luke Witchger will be its new concertmaster.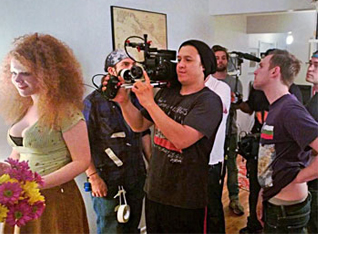 Drama student Max Woertendyke has formed G44 Productions, which recently produced two films featuring the members of Group 44: 18 Actors and Three Dates. Pictured, from left: Mary Wiseman, Jon Chen, and Max Woertendyke in Three Dates.