Title
The Latest on Faculty, Staff, and Students
Body
Evening Division faculty member Julie Jordan's (MM '83, piano) New York Concerti Sinfonietta will perform at Carnegie Hall's Weill Recital Hall on November 24 with the winners of the Sinfonietta's Shining Stars series under the conductorship of Paul Hostetter ('89, percussion). In October, the Sinfonietta gave a concert in its Shining Stars Debut series at the Church of St. Joseph in Greenwich Village, which featured performances by Liyuan Liu (BA '12, MM '13, viola) and Jiafeng Chen (MM '13, violin).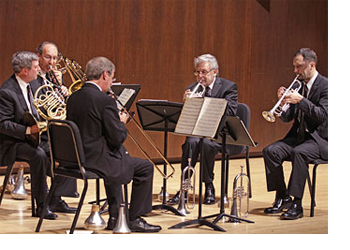 Trumpet faculty member Raymond Mase will retire from the American Brass Quintet at the end of this month; he will be replaced by Louis Hanzlik (MM '00, trumpet). The A.B.Q. is one of Juilliard's ensembles in residence; Mase (second from right) joined in 1973. He is pictured with the other members of the quintet, all of whom are also on the faculty, at their October 14 concert at Juilliard; the photo is by Peter Schaaf. They are David Wakefield (BM '74, MM '75, DMA '81, French horn), John Rojak, (BM '80, trombone), bass trombonist Michael Powell, and Kevin Cobb (MM '95, trumpet).
Music history and Graduate Studies faculty member John J. H. Muller returned to the Bayreuth Festival this summer to be the English-language lecturer. He gave talks on the festival's new "Ring" cycle, Der Fliegende Holländer, Tannhäuser, and Lohengrin.
The New York Woodwind Quintet—comprising faculty members Carol Wincenc (MM '72, flute), Stephen Taylor (Pre-College '68; Diploma '75, oboe), Charles Neidich (clarinet), Marc Goldberg (Pre-College '79; BM '82, MM '83, bassoon; Pre-College faculty), and William Purvis ('68, French horn)—will perform for the Buffalo Chamber Music Society's 90th anniversary at Kleinhans Music Hall on November 12. In April, Wincenc gave the world premiere of Geoffrey Gordon's Flute Concerto, which was written for her, with the Buffalo Philharmonic under JoAnn Falletta (MM '83, DMA '89, orchestral conducting). A recent release on the Carol Wincenc Signature series (Lauren Keiser Music Publishers) includes études by Joachim Andersen and Benoit Tranquille Berbiguier with the second flute part composed by Wincenc.
STUDENTS
In October, the Metropolitan Opera announced that it was adding three new composers to its Met/LCT New Works Program; one of them is master's student Matthew Aucoin. The program allows composers and librettists to workshop new material for the opera and music theater stages, using the resources of the Met and Lincoln Center Theater. Last season, Aucoin was the assistant conductor for the Met's premiere of The Tempest. In February, he'll make his Juilliard Opera debut conducting Eugene Onegin.
In September and October, playwriting student Joshua Harmon's comedy Bad Jews was presented by the Roundabout Theater Company at the Laura Pels Theater in New York City. 
Master's organ student Michael Hey was the organ soloist with the New World Symphony in September for a new arrangement of sections of Wagner's "Ring" cycle by Timothy Higgins, principal trombonist of the San Francisco Symphony. The performance was held at the New World Center in Miami.
Historical Performance harpsichordist Ignacio Prego had a busy October. He went on a concert tour of Chile as a member of the Madrid-based ensemble La Ritirata; he gave a recital that included a preconcert lecture by Historical Performance faculty member David Schulenberg at the Queen Sofía Spanish Institute in New York City; he performed with the Maurice Steger Trio at the Strathmore mansion in Bethesda, Md., and at the Frick Collection in New York City; and he gave a recital at the Cervantes Institute as part of the Latino Music Festival of Chicago.
In August, fourth-year cello student Julian Schwarz won first prize in the professional cello division of the Alice and Eleonore Schoenfeld International String Competition for Violin and Cello; he receives $25,000 and a cello made by luthier Helmut Illner. Schwarz will make his television debut this month performing Samuel Jones's Cello Concerto with PBS's All-Star Orchestra (check local listings for times and dates). 
On November 21, the Dallas Symphony will premiere The World Is Very Different Now, which it commissioned from B.C.J.E. student Conrad Tao (Pre-College '11, piano). The concert, an observation of the 50th anniversary of the assassination of President John F. Kennedy, takes place at the Meyerson Symphony Center and will be conducted by Jaap van Zweden ('79, violin).