Title
Sean Hickey Concertos and a Conrad Tao Excursion
Sean Hickey: Cello Concerto, Clarinet Concerto. Dmitry Kouzov, cello; Alexander Fiterstein, clarinet; St. Petersburg State Symphony Orchestra, St. Petersburg State Academic Symphony Orchestra; Vladimir Lande, conductor. (Delos DE3448)
Body
In this recording of Sean Hickey's beautifully understated Cello Concerto (2008), Dmitry Kouzov (Artist Diploma '05 and teaching assistant to Joel Krosnick from 2006-09) plays it with grace and thoughtfulness. This is not a concerto that overwhelms with ferocious passagework or impossibly dense chords, but rather, one that beguiles gradually in its three lightly scored movements. Led by Vladimir Lande, the St. Petersburg State Symphony Orchestra has the airiness of a large chamber ensemble and Kouzov has a number of solos, such as an extended sequence with percussion in the second movement, and a tender idyll in the otherwise lively finale. Kouzov combines a warm, sinuous tone throughout with a sense of barely contained explosiveness. (In the liner notes, the composer discusses his early fascination with Sibelius; like him, Hickey has a yen for writing "fast music that sounds slow.")
The Clarinet Concerto (2006) has a similar ruminative feeling and chamber music texture, created here by the St. Petersburg State Academic Symphony Orchestra, again with Lande at the helm. Alexander Fiterstein (B.M. '00, Graduate Diploma '02) is the impassioned soloist, with his alluring sound providing a fine complement to Hickey's graceful orchestral palette. Fiterstein's dusky tone is especially haunting in the pensive second movement. In the finale, Hickey introduces "Hunters House" by fiddler Ed Reavy (1898-1988), who was from Cavan, Ireland, before moving to Philadelphia. Fiterstein's nimble fingerwork and the tune's enchanting energy make a joyful conclusion. 
Alexei Barashkin did the engineering honors at the Melodiya Studios in St. Petersburg, Russia, capturing sumptuous detail both in the orchestras and from the two distinguished soloists. 
Conrad Tao: Voyages (EMI 9344762)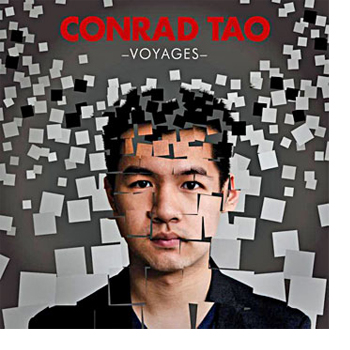 Just 18 when this recording was made, multitalented pianist-composer Conrad Tao (Pre-College '11 and current Barnard-Columbia-Juilliard Exchange student) seems to have enormous energy reserves. If he were solely a pianist, he would receive notice for that expertise alone, but he is also a composer and an excellent violinist to boot. He also shows vision and organizational acumen unusual for his age: in the summer of 2013 he curated and produced the UNPLAY Festival, three eclectic nights at Brooklyn's Powerhouse Arena, featuring some of New York's most creative musicians dedicated to contemporary music. 
On Voyages, two of Tao's compositions share the program with works by Meredith Monk, Rachmaninoff, and Ravel. Vestiges (2011-12) is in four sections, each with titles giving clues to the wide range of the composer's interests. My favorite is the third, "upon ripping perforated pages," which gallops along smartly before its sudden ending. The longest, "upon being," shows Tao's neo-Romantic inclinations. The finale, "upon viewing two porcelain figures," begins with a rapid, single-note ostinato before more florid passages sprout and take flight. 
Tao gives Monk's Railroad (Travel Song)—a minimalist squib from 1981—its first recording, before a sensitively handled quintet of Rachmaninoff's Preludes from Op. 23 and Op. 32. The disc's main course is Ravel's Gaspard de la nuit (1909), in which Tao navigates the composer's intricate phrasing in a version notable for its relative reticence. Delicacy and restraint rule in "Ondine," while the carefully controlled "Le Gibet" seems to last forever—in a good way—before a brittle, mournful "Scarbo" brings every last bit of his formidable technique to the fore. I hope Tao will record Gaspard again in say, 20 years—and again, 20 years after that. It would make a fine yardstick to chart his growth as an artist.
Tao ends with his own 2012 work, Iridescence for piano and iPad, an especially good vehicle to show off engineer Leslie Ann Jones's talent in capturing the mix of acoustic and electronic elements. Working at Skywalker Sound (in San Rafael, Calif.), she pays special attention to Tao's quieter passages, which seem to emerge from stillness.