Title
Contemporary Works for the Viola
Viola, Viola. Hsin-Yung Huang performs works by Benjamin, Mackey, Ruders, Carter, and Chen. (Bridge 9387)
Body
Violist Hsin-Yun Huang makes her credo clear in her engaging program notes: "It is my belief that while we musicians have the privilege to explore art forms of profound beauty, we also have a responsibility to the world's ongoing creative process." Huang, who received her master's degree in 1994 and who now teaches at the School, plays three works written for her, starting with Ground Swell (2007) by Steven Mackey. The work was inspired by a trip to Italy, and its seven sections exude a feeling of tranquility; one can easily imagine the composer relaxing with friends under a Tuscan tree with a bottle of plummy Chianti. The warmth of Huang's viola melds amiably with the American Modern Ensemble, led by Mackey.
Poul Ruders's Romances (2011) were also written for Huang, whose attention and care in these enigmatic miniatures are matched in every bar by pianist Sarah Rothenberg. The third commission is Taiwanese composer Shih-Hui Chen's Remembrance (2005). Written for viola and orchestra, it conjures the theatrical glamour of Chinese opera. Using a folk melody coupled with a few orchestral fireworks, Chen has created a viola showpiece. Conductor Gernot Schmalfuss and the Evergreen Symphony Orchestra provide a glittering backdrop for Huang's sensuous tone.
Faculty member Misha Amory (M.M. '04, viola), a member of the Brentano String Quartet and Huang's husband, joins her for George Benjamin's Viola, Viola (1996). These 10 minutes of tense rhythmic force end with some stark pizzicato strumming. By contrast, the solo line in Elliott Carter's brief Figment IV begins, pauses, seems to examine itself, and then hurtles forward. Carter (faculty 1966-84) wrote the piece in 2004 for viola faculty member Samuel Rhodes, formerly of the Juilliard String Quartet.
Huang was in expert hands with engineering guru Adam Abeshouse, who recorded the program in multiple locations—Princeton University's Richardson Auditorium, the American Academy of Arts and Letters, and the National Concert Hall in Taipei, Taiwan.
Paul Chihara: Viola Concerto & Music for Viola. Paul Coletti, viola; The Colburn Orchestra, Yehuda Gilad, conductor. (Bridge 9365)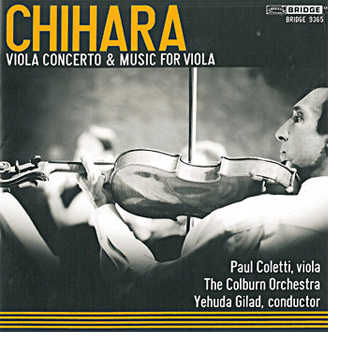 In David Starobin's interview with Paul Chihara (b. 1938), which closes this disc, the composer talks about his unusual musical background. At age 4, he was singing pop songs in the Minidoka (Idaho) War Relocation Center, a Japanese internment camp. Later he took up the violin and became fascinated with popular bonbons such as Leroy Anderson's "Fiddle-Faddle" and Paul Nero's "The Hot Canary" (the latter made famous by violinist Florian ZaBach in 1951). 
Chihara told Starobin he always found the sound of the viola seductive, but said the instrument was too large for him to play when he was young. Fortunately, he has found his latest muse in Paul Coletti (Postgraduate Diploma '84, viola), assisted by colleagues from the Colburn School in Los Angeles. In Concerto Piccolo for four violas (2007-11), Coletti is joined by his wife, Gina Warnick (M.M. '99, viola), Ben Ullery, and Zach Dellinger. The touching finale, composed for this recording, was inspired by a Japanese folk song "Aka Tombo" ("Red Dragonfly").
The Viola Concerto was commissioned in 1987 by faculty member Robert Vernon (Pre-College '65; '70, viola) and the Cleveland Orchestra, but due to health problems, Chihara shelved the concerto for a number of  years. Eventually his condition improved and he completed the piece in 2010. Peeking through its swirling, tonal language are quotations from Debussy's Afternoon of a Faun and Berg's Wozzeck. Coletti is particularly impressive in the second movement's lush waltz. The Colburn Orchestra, conducted by Yehuda Gilad, sounds magnificent in the glittering orchestral part.
Redwood for viola and percussion (1969) shows the influence of composers Roger Reynolds (who was collaborating with Chihara in Tokyo at the time) and Toru Takemitsu. Compared with the other works here, its textures are spare, and Coletti and percussionist Jack Van Geem bring out its mysterious qualities. In the disarming Sonata for Viola and Piano (1991, rev. 2011), the violist's tonal splendor is ideally matched with Vivian Fan's clarity in the piano line.
Engineers Ben Maas and Fred Vogler recorded the program over a span of roughly a year at Colburn's Zipper Hall. They give Coletti and his collaborators a warm radiance throughout, suiting the composer's sunny outlook.
NOTE: This article has been updated to reflect the following correction: The original version incorrectly stated that Steven Mackey is joining the composition faculty in the fall. Steven Stucky, not Mackey, is joining the faculty.