Title
CD Reviews: Krakauer at the Movies; Bach Suites for Flute
David Krakauer: The Big Picture (Table Pounding Records, TPR-002)
Body
This fanciful tribute to music and cinema by clarinetist David Krakauer (M.M. '80) shows him at his most playful and elegant. After turning "Willkommen" from Cabaret into a big-band free-for-all, he uses Nicola Piovani's "La Vita e Bella" (from Life Is Beautiful) to show a fluttering clarinet at its best. A jazzy New Orleans nightclub strut shows up for Ralph Burns's "Honeycomb" (from Bob Fosse's Lenny), and Krakauer's klezmer sensibility kicks in for the mournful "Moving to the Ghetto" by Wojciech Kilar, featured in Roman Polanski's The Pianist. For the finale, "Tradition" (from Fiddler on the Roof), the clarinetist is completely immersed in the song's Jewish roots, but gives it jazzy overtones with the raspy percussion from Jim Black and swirls of electric guitar from Adam Rogers.
Three Woody Allen films provide some of the moodiest tracks: the classic "Body and Soul" (from Radio Days), "Si tu vois ma mère" ("If You See My Mother," from Midnight in Paris), and, in Kathleen Tagg's insouciant arrangement, the March from Prokofiev's The Love for Three Oranges (from Love and Death). 
For "Keep It Gay" (from Mel Brooks's The Producers), Rob Burger's accordion begins a wry waltz, before Krakauer comes crashing in, Brooks style, with a high-kicking polka. And in a radical change of mood, the "Love Theme" (from Sophie's Choice) offers subtle reminders of the film's wrenching story. To complete the album, Krakauer includes Randy Newman's plaintive "The Family" (from Barry Levinson's Avalon), and Andrew Barrett's stylish arrangement of "People" (from Funny Girl) further emphasizes the song's intimacy. 
Throughout the program Krakauer traffics in nostalgia without becoming cloying. His fluidity and control are astonishing, and the entire program exudes a sense of jovial camaraderie with his well-chosen octet of colleagues. 
Recording engineer Roy Hendrickson at New York's MSR Studios frames the clarinetist with warm sound that magically evokes recordings of days gone by. Krakauer includes a charming postscript in the liner notes: "With fond memories of the old Orpheum Theater in Tannersville, N.Y., where I first fell in love with the movies."
In Translation: Selections from J.S. Bach's Cello Suites. Amy Porter, flute. (Equilibrium EQ 124)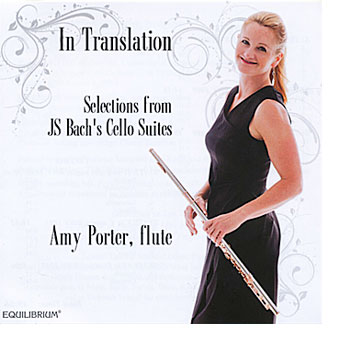 The appeal and meticulous construction of Bach's six Suites for Solo Cello are too seductive to remain the sole province of the cello. Through the years they have been transcribed for mandolin, electric bass, saxophone, and ukulele, among many other instruments. Now flutist Amy Porter (B.M. '86, M.M. '87) has created her own version, noting in her brief liner notes that flute teachers often use Bach transcriptions with students. She encourages students to use this recording—and her accompanying score, published by Carl Fischer—as a springboard to develop their own arrangements.
From the outset, Porter's crystalline tone is appealing. (Her excellent technique aside, some of her lustrous sound is due to her 14-karat gold instrument, made by Muramatsu.) The Fourth Suite shows, as well as anything else here, how successful these transcriptions can be in the right hands. Porter's adaptation seems completely natural, as if Bach had originally written it for flute. The opening Prelude has both freshness and innocence, and Porter takes the Allemande at a genial tempo to show off both Bach's extraordinary control of line and implied harmony, as well as her own precision. After the winsome Courante and a stately Sarabande, she ends with the Gigue, which will surely convince any remaining skeptics that these masterpieces lose little in translation.
Porter omits the penultimate Bourée, as she does with some movements of each suite, explaining that they are "too challenging in instrument range and replicating double stops," though her printed edition includes all the movements. (For listeners whose favorite is the final suite, be forewarned: Porter omits four of its six sections; only the Prelude and Courante are included on this recording.)
The translucent sound—with just the right resonance, it's never tiring to the ear—is thanks to recording engineer Jason Corey, who recorded Porter in Hill Auditorium at the University of Michigan in Ann Arbor. 
Popular Columns
Juilliard Archives Time Capsule