Title
The Latest on Faculty, Staff, and Students May-August 2014
Body
Liberal Arts faculty member Greta Berman and Carol Steen contributed a chapter called "Synesthesia and the Artistic Process" to The Oxford Handbook of Synesthesia, which was published by Oxford University Press in December.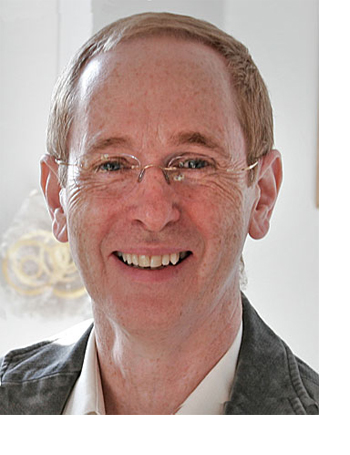 In April, Evening Division faculty member Conrad Cummings's At the Window, commissioned by Amy X. Neuburg and the Paul Dresher Electroacoustic Ensemble, was given a preview performance at the ODC Theater in San Francisco. It will also be included as part of an evening-long piece called They Will Have Been So Beautiful, presented by Cal Performances at Zellerbach Playhouse in Berkeley, Calif., in December. (Photo by Sandro Lamberti)
In April, music theory faculty member Michelle DiBucci (MM '87, composition) was named a winner of Opera America's Opera Grants for Female Composers for her opera Charlotte Salomon: Death and the Painter. DiBucci was one of eight composers chosen out of 112 applicants for a $12,500 grant to help develop their work. Susanne Mentzer (BM '79, MM '80, voice) was on the judging panel.
In March, Pre-College faculty member Shirley Givens (Diploma '53, violin) performed with Andrzej Graviec and then gave a master class at the Moores School of Music at the University of Houston. 
In April, music history chair L. Michael Griffel (MS '66, piano) was honored with a plaque thanking him for his leadership and vision in Thomas Hunter Honors Program at Hunter College, where he taught from 1970 to 2005. The occasion was the 50th anniversary celebration of the founding of the program. 
In April, Liberal Arts faculty member Aaron Jaffe's dissertation, Alienation From "Species-Being"—An Investigation of Marx's Philosophical Anthropology, won the Alfred Schutz Memorial Award in Philosophy and Sociology. He will receive his doctorate in philosophy from the New School this month.
Faculty member Itzhak Perlman (Pre-College '63; '68, violin) was awarded an honorary doctorate by the University of Rochester following a concert in February with the Eastman School of Music Philharmonia in which he performed Max Bruch's Violin Concerto No. 1 under Neil Varon (BM '71, MM '72, orchestral conducting).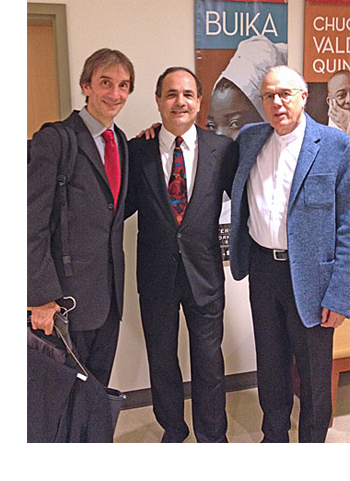 Music theory faculty member Behzad Ranjbaran's (MM '88, DMA '92, composition) viola concerto was commissioned and premiered by the Santa Rosa (Calif.) Symphony in March. Paul Silverthorne, principal violist for the London Symphony Orchestra, premiered the new concerto with Bruno Ferrandis (MM '86, Professional Studies '87, orchestral conducting) at the podium. From left: Ferrandis, Ranjbaran, and Silverthorne.
Pre-College faculty member Pablo Rieppi (MM '94, percussion) is running a summer percussion seminar for high school students at Purchase College; it will take place from August 3 to 10.
Pre-College music theory faculty member Eric Sessler (MM '96, DMA '99, composition) successfully completed his first Kickstarter campaign for a work he's composing for guitarist Jason Vieaux.
Graduate Studies and Pre-College faculty member Eric Wen presented a paper at Duke University in February on Mozart's "Dissonance" String Quartet. In April, Wen presented a paper on the Sarabande from Bach's Orchestral Suite No. 2 at the Music Theory Society of New York State conference; he also gave a paper on the Brahms Horn Trio at Princeton University.
STAFF
Benjamin Sosland (MM '03, DMA '08, voice), who's the assistant dean for the Kovner Fellowships, administrative director of the Historical Performance program, and a member of the college faculty, gave a preconcert talk before Les Arts Florissant's performance of Rameau's Platée, which was part of Lincoln Center's Great Performers series in April.
STUDENTS
Artist Diploma piano student Charlie Albright received the 2014 Avery Fisher Career Grant at the Lincoln Center in March. The $25,000 grant is given to recognize and support the careers of talented performers and ensembles.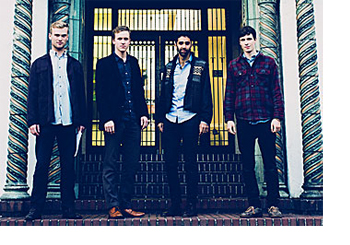 Fourth-year jazz students Andrew Clausen (trombone; second from left) and Riley Mulherkar (trumpet; second from right) formed the jazz quartet the Westerlies with fellow Seattle-ites Zubin Hensler (trumpet; right) and Willem de Koch (trombone; left). On May 13, the group will release its first album, Wish the Children Would Come on Home: The Music of Wayne Horvitz. Horvitz plays keyboards on the album; he taught the foursome while they were growing up in Seattle (Hensler and de Koch now attend the Manhattan School of Music). There will be a New York City release concert on May 25 at 8:30 p.m. at the Cornelia St. Café. (Photo by Adam Guy)
Second-year master's violinist Francesca dePasquale was one of seven recipients of a two-year, $50,000 grant from the Leonore Annenberg Fellowship Fund for the Performing and Visual Arts.
In February, first-year cellist Benjamin Fryxell gave the world premiere of Frank Proto's Divertimento for Cello and Orchestra with the Blue Ash-Montgomery Symphony Orchestra in Cincinnati.
First-year master's violinist Paul Huang (Pre-College '09; BM '13), third-year clarinetist Narek Arutyunian, and Artist Diploma candidate Andrew Tyson (MM '12, piano) will each debut in the Young Concert Artists Series with the Orchestra of St. Luke's in a program of concertos at the Y.C.A. gala on May 7 at Alice Tully Hall.
In March, Kenneth Naito, a student of Pre-College faculty member Shirley Givens (Diploma '53, violin), performed at a dinner of the ambassadors of the Association of Southeast Asian Nations, ASEAN, that was held in Washington, D.C. Performing with pianist Yumi Nomoto, Naito played Saint-Saëns's Introduction and Rondo Capriccioso in A Minor, and the third movement of Mendelssohn's Violin Concerto in E Minor. 
In June, doctoral student Jared Miller (MM '12, composition) will become the Victoria (British Columbia) Symphony's composer in residence, a two-year position that can be renewed for a third year.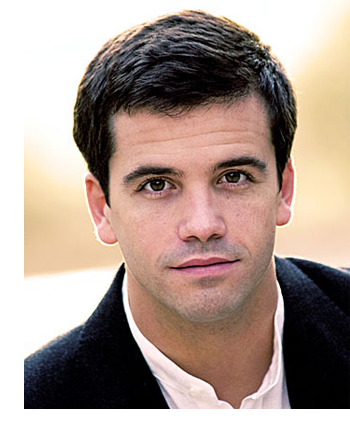 In March, fourth-year graduate student in Historical Performance Ignacio Prego performed a solo harpsichord recital at the Tropical Baroque Music Festival at the Palace at Coral Gables in Miami. Also in March, Prego presented his new ensemble, Flores De Musica, in a concert at the Hispanic Society of America. Joan Plana (Graduate Diploma '11, Historical Performance) and Maria Martinez performed in the ensemble's concert of Spanish Baroque music.
Violinists were well-represented in the Philadelphia Love Run half-marathon in March. Fourth-years Chelsea Starbuck Smith and Clare Semes ran along with second-year master's student Maria Semes and Amy Semes, a freshman.