Title
Taaffe Zwilich Chamber Music; Appleby and Phillips Sing Moore
Passionate Diversions: A Celebration of Ellen Taaffe Zwilich. The Kalichstein-Laredo-Robinson Trio; Miami String Quartet; Michael Tree, viola; Harold Robinson, bass. (Azica Records ACD-71292)
Body
For the middle movement of Ellen Taaffe Zwilich's Quintet for Violin, Viola, Cello, Contrabass, and Piano (written in 2010 and inspired by Schubert's great "Trout" Quintet), the composer takes a tiny motif from one of Schubert's songs and uses it to shape a blues-infused reverie. In contrast, the outer movements are more animated. Zwilich, who received a doctorate from Juilliard in 1975, has superb advocates for this piece on this recording: the Kalichstein-Laredo-Robinson Trio, with the help of Harold Robinson on bass and viola faculty member Michael Tree. (Piano alum Joseph Kalichstein is also on the faculty.) Zwilich also wrote Trio for Piano, Violin, and Cello for this group, in 1987, and its dashing reading here emphasizes the composer's rippling lines and sparkling colors. The contemplative central Lento is particularly stirring.
In 2008, Zwilich composed the weighty Septet for Piano Trio and String Quartet for the Kalichstein-Laredo-Robinson Trio and the Miami String Quartet (whose members include Juilliard violin and viola alums Benny Kim and Scott Lee). "The fact that there is no model for such a septet made the pre-composition process a most enjoyable exploration," Zwilich wrote in the liner notes. She also noted the pleasure of writing for "two strong ensemble personalities," and that potent chemistry is evident from the outset. After a brief "Introductions" movement, a substantial "Quasi una Passacaglia" and the peppy "Games," the final "Au Revoir" begins quietly and turns more anxious before its radiant conclusion.
Silas Brown engineered the Quintet and Septet, with Adam Abeshouse taking credit for the Trio. They give the program a clear focus, with the seven musicians sounding intimate and natural.
Dear Theo: 3 Song Cycles by Ben Moore. Paul Appleby, tenor; Susanna Phillips, soprano; Brett Polegato, baritone; Brian Zeger, piano. (Delos DE3437)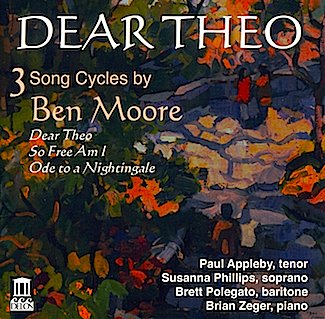 As an encore at a 2002 recital, Deborah Voigt sang composer Ben Moore's "Wagner Roles," a hilarious song he wrote to show off her voice and comedic talent. This recording, a sampling of Moore's recent output interpreted by some of today's best artists, shows why singers admire his work so much. The texts of Dear Theo, performed by tenor Paul Appleby (M.M. '08, Artist Diploma '10), are based on the letters of Vincent van Gogh to his brother, and Moore's perceptive and sensitive choices are matched by his ability to spin out phrases that play to singers' strengths. Appleby sounds magnificent in "The Red Vineyard," an intimate setting of a piece in which van Gogh expresses a childlike wonder at the glory of color, and the tenor nails the slight melancholy in the closing "Souvenir" (which also mentions a red vineyard, a nice bit of symmetry). Brian Zeger (M.M. '81, piano), the artistic director of Juilliard's Marcus Institute for Vocal Arts (and Moore's partner), emphasizes the lyricism in Moore's sweeping piano lines. Appleby returns for an encore, "The Lake Isle of Inisfree," a lovely ballad with words by William Butler Yeats.
Soprano Susanna Phillips (B.M. '03, M.M. '04) is masterful in So Free Am I, with texts written by women from various historical periods, including two poems by sixth-century Buddhist nuns. "Interlude," from a poem by Amy Lowell (1874-1925), taps into the writer's grateful appreciation of nature to create a soaring showpiece. "Orinda Upon Little Hector Philips," by Katherine Philips (1631-1664), is an agonizing cry from a mother whose son lived just a month, but afterward, the mood turns wry for the hilarious "Nervous Prostration" by Anna Wickham (1883–1947). In each of the cycle's seven songs, Phillips offers lustrous tone coupled with strong characterization, and Zeger's accompaniment is marvelously clear and attentive.
Brett Polegato's gorgeous baritone closes the program with John Keats's Ode to a Nightingale. Moore shows great finesse setting the dense beauty of the text's eight stanzas, and has created a cycle that, like the other two, many singers would do well to add to their arsenal. Zeger combines clarity and sensitivity in Moore's florid piano part. 
This is the first recording I've heard from New York's DiMenna Center, which was established by the Orchestra of St. Luke's in 2011 and is highly regarded as a venue for live performances. Recording engineer Adam Abeshouse shows all three singers and the pianist in the best possible light.