Title
Upcoming and Recent Alumni Events
Subhead
Events in December, March, and April
For more information, to R.S.V.P. or to receive emailed event invitations, please contact the Alumni Office at (212) 799-5000, ext. 344, or alumni@juilliard.edu.
Body
Upcoming Alumni Events
December 12, 2014
New Dances Reception, 6 p.m.
All alumni will have the option of purchasing half-price tickets to this evening's performance of New Dances; the performance will be preceded by a reception.
March 13, 2015
Aiken Festival Alumni Reception
There will be a reception, concert, and Joye Cottage tour for alumni at the Aiken (S.C.) Festival. Details will be announced closer to the date.
Week of April 19, 2015
Southern and Northern California Alumni Events
Stay tuned for information about Los Angeles and Bay Area events.
October Alumni Events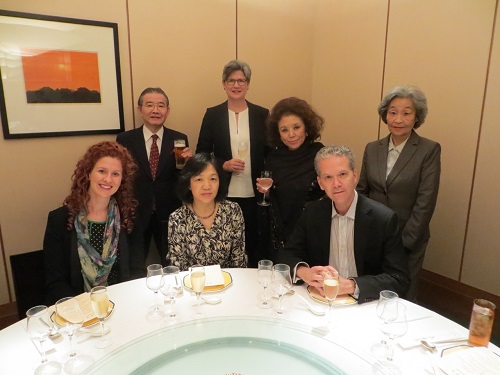 Some alums joined Juilliard administrators for dinner at the Hyatt Regency Tokyo. Above, from left: Alexandra Day (director of communications and marketing strategy), Yohichi Isozaki, Katsurako Mikami, Elizabeth Hurley (vice president for development and public affairs), Akiko Hayashi, Brian Zeger (artistic director of the Marcus Institute for Vocal Arts), and Hiroko Fukumoto. (Photo by Hamao Fujiwara)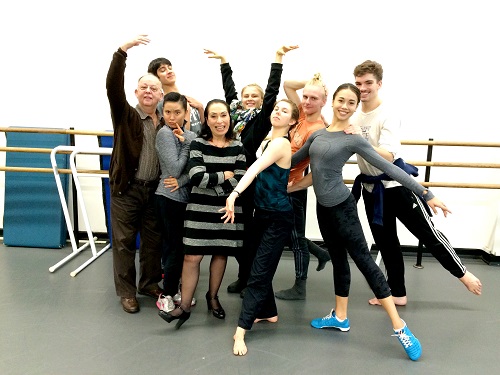 Harriet Ross (B.S. '61, dance) spoke with dance students about the importanceof networking and staying in touch with their Juilliard family. She also told them that it's not too early to start thinking about their future careers after actively dancing. Above, from left: Lawrence Rhodes (artistic director of the Dance Division), Zachary Gonder, Tiare Keeno, Ross, Whitney Schmanski, Cleo Person, Casey Hess, Katerina Eng, and Evan Fisk. (Photo by Rebecca Vaccarelli)
Also that month (not pictured), a workshop called Keep It Classy featured tips on not conflating partying and networking. Panelists were Phoebe Dunn (Group 42), Ingrid Kapteyn (B.F.A. '13, dance) and Benjamin Sosland (M.M. '03, D.M.A. '08, voice), the assistant dean for the Kovner Fellowships and the administrative director of Historical Performance. All three agreed that sometimes people can be more critical of you outside of your art, and that it's important to recognize this and to use one's best judgment. Sosland summed up by saying "the performance doesn't stop once you leave the stage—you're always performing and therefore people are always watching you."