Title
CDs From Dawe and Fuchs
Jonathan Dawe: Piercing are the Darts, Early Twenty-First Century Chamber Works. (Furious Artisans FACD 6810)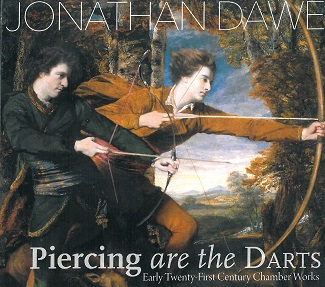 Jonathan Dawe (M.M. '91, D.M.A. '95, composition), who's on the Juilliard faculty, finds his muse in fractals, mathematical formulas that inform the patterns of snowflakes, seashells, and other natural elements. In his compositions, he couples this with a fascination with works from the Baroque, the Renaissance, and other earlier periods. Fragments from Bach's Christmas Oratorio are the starting point for Concerto for the First Sunday of New York (2006), scored for soprano saxophone (Eliot Gattegno), violin (David Fulmer, M.M. '06,  D.M.A. '11, composition), cello (D.M.A. student Christopher Gross, M.M. '06) and double bass (Kris Saebo, B.M. '04, M.M. '06). In much of the three delicate movements, the Bach references flit by in tiny pieces, but the final chords fully reveal the inspiration.
Body
Each movement of Dawe's Ciphers and Constellations in Love With a Woman (Third String Quartet, 2006), was inspired by one of Joan Miró's paintings, and Dawe's compositional technique incorporates complex mathematical theories using fractions. The stellar ensemble includes Gross, Miranda Cuckson (Pre-College '90; B.M. '94, M.M. '01, D.M.A. '06, violin), Keats Dieffenbach (B.M. '04, M.M. '06, violin), and Kyle Armbrust (B.M. '03, M.M. '06, Artist Diploma '08, viola). The exuberant finale evokes German Baroque music coupled with South Indian ragas.
Rarely heard melodies that Mozart created for his students form the brief Super Mozart Fractals (2007), which is performed by Vasko Dukovski (B.M. '08, M.M. '10, clarinet) and Steven Beck (B.M. '01, M.M. '03, piano). Also short, Zipoli Automatica (2008), composed for organist Joseph Arndt (M.M. '09, organ), applies patterns based on cellular growth to quotations from Baroque composer Domenico Zipoli.
The first few bars of Gibbons, Gongs, and Gamelan (2005) have the rhythmic scheme of "Hickory, Dickory, Dock"—that is, until other patterns invade to create a glittering confluence of marimbas, vibraphone, bells, and gongs. Faculty member Jeffrey Milarsky (B.M. '88, M.M. '90, percussion) conducts the excellent six-member Manhattan School of Music Percussion Ensemble. Milarsky also directs L'Dafne: An opera of 311 notes, exactly & a sinfonia & ritornello of 80 notes, also (2006), a long title for a work lasting a little more than five minutes. The fine musicians include soprano Sarah Wolfson (B.M. '99, M.M. '01, voice), tenor Karim Sulayman, soprano Kristen Dawe (the composer's daughter), Samuel Armstrong (B.M. '13, trombone), Clara Lyon (B.M. '08, violin), Serafim Smigelskiy (M.M. '12, cello), and percussionist Joseph Kelly.
Jeremy Tressler recorded the large array of musicians at Dreamflower Studio in Bronxville, N.Y., and at Grace Church in Newark, N.J., and he vividly captures every detail of Dawe's scores.
Kenneth Fuchs: Falling Man; Movie House; Songs of Innocence and Experience. Roderick Williams, baritone; JoAnn Falletta, conductor; London Symphony Orchestra (Naxos 8.559753)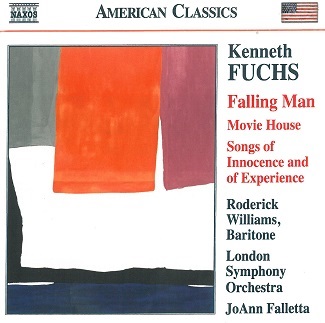 An unsettling dramatic scena called Falling Man (written in 2009-10 and based on text from Don DeLillo's novel of the same name about 9/11) opens this set of three song cycles by Kenneth Fuchs (M.M. '83, D.M.A. '88, composition). Fuchs uses DeLillo's sober descriptions ("A man seated on the sidewalk, coughing up blood") to create raw and powerful results. The unnerving narrative is also a showcase for the dulcet baritone of Roderick Williams (featured in all three works) and the keenly attentive playing of the London Symphony Orchestra, led by JoAnn Falletta (M.M. '83, D.M.A. '89, orchestral conducting). Williams shows extraordinary tonal control while articulating each syllable; often I didn't even need to refer to the texts provided in the booklet.
In Movie House (2007), Fuchs deploys a luxurious array of orchestral colors to illuminate seven John Updike poems from 1963. As Fuchs writes, the texts have "a nostalgic quality that seems both ironic and poignant," and his instrumental writing, tonal with a pleasing chromaticism, makes a fine foil for them. The title track contains some of Updike's haunting comparisons ("the size of the great rear wall measures/the breadth of the dreams we have had here."), followed by the striking "Modigliani's Death Mask" ("Preserved inside its glass case like/An oddly favored grapefruit rind"). In each poem, Fuchs has a talent for setting words with natural cadences and Williams for luscious tone. 
In the final set, four joyous poems from William Blake's Songs of Innocence and of Experience inspired Fuchs to use simpler, lighter scoring. Flute fans, rejoice: the freshness of "The Lamb" and "Spring" relies heavily on that instrument, and the set concludes with Williams enjoying himself with a bit of sprechstimme for "The Tyger."
The gorgeous sound is thanks to engineer Jonathan Allen, who recorded all three works at the famed Abbey Road Studios in London.