Title
Juilliard Baroque, Itamar Zorman CDs
François Couperin: Les Nations: Sonades, et Suites de Simphonies en Trio. Juilliard Baroque (Naxos 8.5733347-48)
Body
For its inaugural recording, the period-instrument group Juilliard Baroque has chosen one of the touchstones of 18th-century music, François Couperin's Les Nations (1726). The ensemble, founded in 2009 and led by renowned violinist Monica Huggett, gives Couperin's cycle a joyful sparkle, with sensuous textures and rhythmic precision.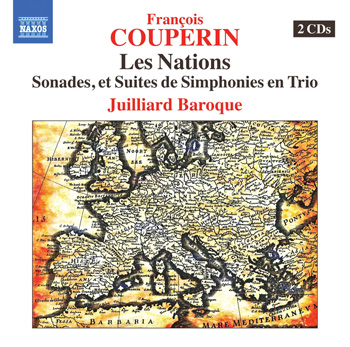 Each of the four suites, or ordres, begins with an Italian trio sonata (sonade), followed by a series of French dances. Each also has its own inspiration—France, Spain, the Holy Roman Empire, and the Savoy dynasty of Piedmont—even if the results sound mostly like Couperin without any specific geographic references. And though the instrumentation is mutable (a recording by the Purcell Quartet offers a leaner approach), Huggett and her colleagues find bountiful colors with an octet.
Each listener will have favorites among the composer's delightful miniatures. Elegance holds sway in La Françoise, its Gigue a model of lightness and grace. The Gavote in L'Espagnole has a surprisingly jazzy swing, and delicacy marks the stately final Passacaglia. Of the four Sonades, the one that opens L'Impériale is especially appealing; its final "Vivement" sequence and the dances that follow are tart and energetic.
Joining Huggett in the outstanding ensemble are Cynthia Roberts (violin), Sandra Miller (flute), Gonzalo X. Ruiz (oboe), Dominic Teresi (bassoon), Daniel Swenberg (theorbo and guitar), Sarah Cunningham (viola da gamba), and Kenneth Weiss (harpsichord). All are either current or former members of Juilliard's Historical Performance faculty.
The multitalented Ruiz also did the engineering honors; he recorded the group in upper Manhattan's Corpus Christi Church, which has a clear, intimate acoustic that is prized for early music. In addition to capturing Couperin's subtleties and lucid textures, Ruiz ensures that the tangy timbres of the period instruments register authentically.
Portrait. Itamar Zorman (violin), Kwan Yi (piano). Profil PH 14039.
Olivier Messiaen's Thème et variations (1932), a wedding present for his first wife, makes an unusual opening for an  imaginatively conceived recital from Itamar Zorman (M.M. '09, Artist Diploma '12, violin) and Kwan Yi (Pre-College '04; M.M. '10, piano). A subdued opening leads to a rapturous climax, and as Zorman spins out the inquisitive violin line, Yi calmly maintains Messiaen's steady pulse.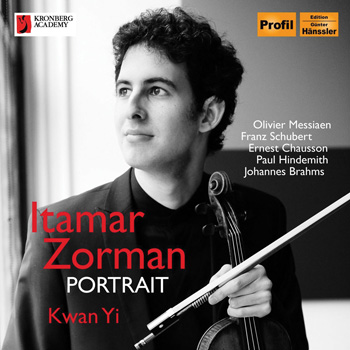 Schubert's Rondo in B Minor, D. 895, sets its fireworks amid sweet melodic strains, and the duo manages to find bits of humor here and there, with Yi especially sensitive to Schubert's playful dotted rhythms. And in Chausson's Poème (1896), written for the violinist Eugène Ysaÿe, they are particularly beguiling, patiently letting the composer's languid phrases unfold.
In what will be the high point for some listeners, Zorman navigates the solitary challenges of Hindemith's Sonata for Solo Violin, Op. 31, No. 1, with breathtaking confidence. The composer's inventiveness shows off the violinist's precise bowing technique, whether in the breathy strokes of the third movement, the dreamy double stops and melancholy spirals of the fourth, or the vertiginous Prestissimo that ends it all.
In the Brahms Sonata in D Minor, Op. 108, Zorman's magnificent tone again holds forth (he plays a 1745 instrument by Pietro Guarneri), and he and Yi generate considerable warmth in the opening Allegro. Zorman's expert phrasing makes the seductive Adagio even more alluring, the Scherzo is notable for Yi's nimble contributions, and the finale exudes sheer muscular excitement.
Zorman comments in the liner notes that he wanted his debut recording to reflect an actual concert. In November 2014, he and Yi played the Hindemith and Brahms at Carnegie's Weill Recital Hall—a striking performance—and this release only confirms the two musicians' talents. Recorded in Germany by Thomas Eschler at the hr-Sendesaal in Frankfurt am Main, the disc boasts rich sound, with just the right amount of reverberation.