Title
A Juilliard Stage Combat Mystery Photo
Stage combat has long been taught at Juilliard; we're not sure when this particular class—perhaps from the opera department or the Summer School—took place, though. Readers, if you recognize the photo or anyone in it or if you have memories of stage combat to share, please let us know at journal@juilliard.edu or (212) 799-5000, ext. 340. [Update: Thanks for writing in! See who the mystery teacher was and find out about other Juilliard combat experiences here.]
Body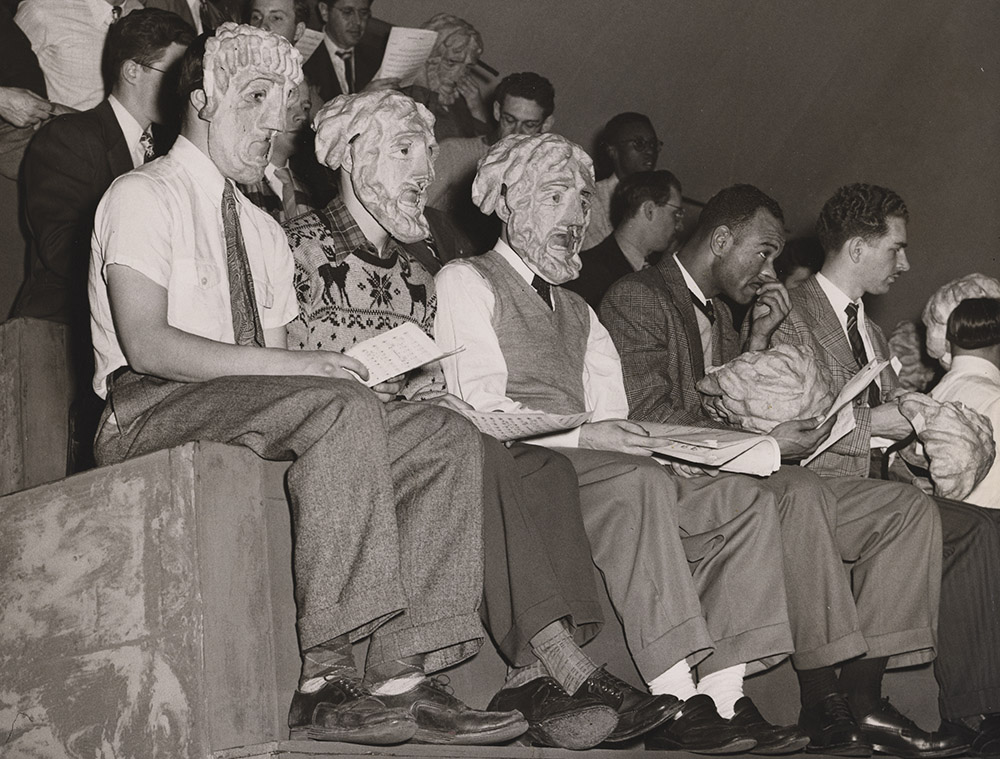 The April Time Capsule, a photo by Alton Taube, showed the chorus in Juilliard's April 1948 performance of Oedipus Rex, an opera-oratorio after Sophocles by Stravinsky and Cocteau in an English translation of the Speaker's text by E. E. Cummings. We asked readers for memories of the production.
Marie Traficante (Diploma '48, voice) said, "I was the opening-night Angelique. I remember that production as vividly as yesterday."
Milton Fink (BS '48, double bass) wrote, "I remember these performances vividly! I had recently been discharged from service and I returned to Juilliard to complete my degree. I was in the orchestra playing the bass and was mesmerized by the production. Edgar Schenkman [Diploma '34, orchestral conducting; faculty 1940–48], the conductor, was the only person I could see from my position and I was overwhelmed by the sound and text."
Leslie Dreyer (Diploma '51, violin), the concertmaster for the production, sent his reminiscence about the production that was published in the September 2006 issue of Classical Singer magazine:
My Oedipus Rex Complex
I lost my Juilliard violin scholarship for cutting orchestra rehearsals and gambling. Maestro Jean Morel summoned me to his office. Through a dense cloud of Gauloise cigarette smoke, the conductor scolded me for playing ping-pong and chess in the student lounge instead of attending rehearsals. Moreover, several foreign students had complained to the dean about losing considerable sums of money on these games. So he took my tuition scholarship away, and dismissed me from the Juilliard Orchestra, which was, in Morel's words, "zee best conservatoire orchestra in zee world."
"Eef you want to be a hustler," he snapped, "you cannot be a Heifetz!"
Because my solo audition and sight-reading had impressed him earlier, however, Morel had decided to appoint me concertmaster of a newly formed student "training orchestra." This position was an honor I did not deserve, he added, but it might teach me responsibility and discipline, and I would even have the wonderful opportunity to play operas, while gaining experience as a concertmaster.
I told him I hated opera. (What teenage instrumentalist did not in those days?) Furthermore, I said I'd heard rumors that this new training orchestra was for misfits and students who failed the sight-reading audition for the regular Juilliard Orchestra.
Morel was unmoved. My eyes burned from the smoke, and a few tears, as I realized my tuition scholarship was doomed.
Morel lit another Gauloise and let out a heavy sigh. As he gestured for me to leave his office, he mumbled that he felt sorry for maestro Edgar Schenkman, whose unpleasant job it would be to train a mob of opera-hating malcontents like me. Crestfallen, dismissed from his office and his world-famous orchestra, I headed for the Juilliard music library. I had never played an opera in my life, and felt suddenly apprehensive about my new position.
My fears were not unfounded—my first opera was going to be Oedipus Rex, with the composer, Igor Stravinsky, attending the performance. He planned to make many revisions to the original 1927 manuscript, according to the librarian, who complained about a second opera—a one-act farce, Angelique by Jacques Ibert—which Morel had tacked onto the program (just for a French touch to the occasion!), making more work for the library.
The photocopied manuscript violin score of "Oedipus" was incredibly difficult to read, with 16th notes the size of flyspecks. I practiced my scales and Paganini caprices daily, but the opera music remained zipped up in the cover of my violin case. Once I tucked it under my bed pillow, as though I could learn it in my sleep through osmosis, but in the morning, unread and a bit wrinkled, it went back to the cover of my violin case.
Moreover, since my only experience as a concertmaster was in my high-school orchestra, at Schenkman's rehearsals I missed entrances, played wrong notes, and relied on my assistant concertmaster—a conscientious girl with an expensive fiddle and a voluptuous figure—who had practiced the part well in advance (mainly because she was a lousy sight-reader). I did, however, master a brief solo passage that was not difficult, and fortunately, many wrong notes from the string sections went undetected by maestro Schenkman, who had his hands full with the dissonant, complex score.
I attended most of the rehearsals. Nevertheless, I did not have the heart to tell my poor divorced mother that her only child had lost his tuition scholarship, so I took off a few opera rehearsals to make money playing ping-pong and chess. (No longer welcome in the Juilliard lounge, I took my hustling skills across the street to the International House, where I beat a barefoot maharaja at ping-pong for $150 and lost a chess game for $5 to a young Russian grandmaster.)
On the evening of our "Oedipus" premiere, April 21, 1947, I arrived early at the Juilliard Concert Hall, tuned my violin, and, for the first time, began practicing some difficult passages in the opera. Suddenly, my hubris vanished, and I felt nervous and unprepared.
The audience trickled into the theater and was seated. My stand-partner nudged me with her violin bow and pointed to the front row. About three feet from us, in the first-row orchestra, sat Igor Stravinsky. And next to him, heaven help me, sat Arturo Toscanini! He wore a black cape, and a black bowtie adorned his white wing-collar. Toscanini's gaze, under those thick black eyebrows, was piercing, ferocious, and when my eyes met his for one split second, I was terrified. It was as if he had peered right through me, deep into my soul, detecting my incompetence as a concertmaster and anticipating an inept performance.
The first act went better than I expected. I fudged my way through the difficult passages, but by playing the first few and last few notes of each passage loudly and with authority, I managed to finish each flurry of flubbed notes with élan. Schenkman beamed approvingly at me now and then, and it struck me that he could only judge the violins visually, not audibly, as we were overwhelmed by the violas, woodwinds, tympani, and brass. My brief solo went well, even though my bow arm trembled from nervousness.
Stravinsky watched the singers onstage with his mouth agape, as if gasping for air. He would nod with orchestral accents, then lean back and shut his eyes during quiet sections of the music. Toscanini seemed bored. He tugged at his mustache and stroked his chin, while tossing a few terrifying glares at the orchestra and the podium, where maestro Schenkman often had difficulty holding the opera together, thanks to some rushing from the singers and biffs from the brass.
At intermission, Toscanini rose quickly from his seat, tossed his cape back with a flourish, and stormed out of the concert hall while the audience was still applauding. He did not return for the second act, and I never saw him again, ever.
Stravinsky remained in his seat, applauding the singers and emitting a salvo of hoarse "bravos." He spent the rest of the intermission scribbling in a notebook on his lap. After Toscanini's departure, I felt greatly relieved. As for Stravinsky, I had not spied him even once looking at the orchestra through his thick glasses. If he had a vision weakness, I thought, maybe he had a hearing problem as well—or so I hoped, as it occurred to me that if I had a dollar for every wrong note and accidental I played, I would be a millionaire. My stand-partner gave me a look of despair, while she gamely scraped away through maze after maze of sharps and flats.
"I feel like I'm all alone," she whispered during a rest. "You are!" I replied. Seeing how miserable I was, she added, "but your solo sounded fine!"
As the opera neared the final curtain, an overwhelming feeling of guilt swept over me. Surely Stravinsky deserved a better concertmaster than me, one who had at least practiced the part and actually played all the notes. Yet when "Oedipus" was over, while the singers took their bows and I wiped the sweat and rosin dust off my violin, the composer reached over the pit railing and patted me on the shoulder. "Splendid, my boy!" he said, "Splendid!"
I thanked him, though I was in a state of shock. Either the great composer was deaf, I thought, or was he being sarcastic? But he was smiling and nodding, and he seemed genuinely pleased with the performance, despite some mishaps onstage and ensemble problems in the pit.
Stravinsky did not remain for the Ibert trifle, Angelique, which was not complicated to play and an anti-climax to what had gone before. When it was over, I thanked my lovely stand partner for her support as she planted a light goodnight kiss on my cheek. Then, while she dashed off for a late date with a cellist, I slowly packed my violin into its case, as if in a trance, and found myself lingering in the pit long after everyone had left the hall. I can still recall, more than half a century later, how grateful I was that Toscanini had left at the first intermission, without a word.
Many years later, Jean Morel came to the Metropolitan Opera to lead some French operas. When he spied me sitting on the first-desk in the second-violin section, he frowned, but forced a half smile. At intermission, I ran into him backstage, puffing away on his ubiquitous Gauloise. We shook hands and he asked if I still hated opera. And did I still gamble at ping-pong and chess?
I replied that I loved opera now, except for Oedipus Rex, which had some painful memories for me. (Morel looked perplexed, but did not bother to ask me for an explanation.) And I no longer needed to hustle ping-pong and chess, I said, since the Met was one of the highest paid orchestras in the world. Then I reminded the maestro that when I lost my Juilliard tuition scholarship, thanks to him kicking me out of his orchestra, I was destitute.
He winced, and I knew I had made my point.
Dreyer went on to play in the Metropolitan Opera Orchestra, including as associate principal, for many years.