Title
A Pair of Violin Virtuosos: Anderegg and Shapira
Works by Mozart, Schoenberg, Perle, Schubert, and Carter. Francesca Anderegg, violin; Brent Funderburk, piano. (Albany Records, Troy 1361)
Body
Recitals don't come more appealingly designed than this one by violinist Francesca Anderegg (B.M. '03, M.M. '07, D.M.A. '12) and pianist Brent Funderburk (M.M. '11)—and Mozart's touching E-Minor Sonata, K. 304, written at the time of his mother's death, makes an elegant opening. Changing the mood sharply, the duo plunges into Schoenberg's Phantasy (1949), an eight-minute fever dream that veers from the languorous to the skittish. Anderegg combines a dark expressivity with meticulous intonation—and Funderburk adds discreet counterpoint—in a performance that might change the minds of Schoenberg skeptics.
In addition to his compositional prowess, George Perle was known for his dry wit, and his Triptych for Solo Violin and Piano (2003) is a fine example of virtuosity melded with occasional humor. Schubert's Rondo, D. 895, makes an impressive follow-up, with its majestic opening followed by a kaleidoscopic sprint through various keys and vivacious rhythms. 
To conclude, Anderegg offers Four Lauds by Elliott Carter (faculty 1966-84), written from 1984 to 2001 as homages to Aaron Copland, Goffredo Petrassi, and former faculty members Roger Sessions and Robert Mann (Diploma '38), the founding first violinist of the Juilliard String Quartet and now faculty emeritus. Anderegg's accuracy in Carter's daunting intervallic leaps will preclude multitasking; listeners will be too riveted to think about anything else. It would be hard to choose a favorite from these squibs, but the one from 1999, "Fantasy—Remembering Roger" and dedicated to the extraordinary violinist Rolf Schulte, is easily one of the late 20th century's most virtuosic studies for the instrument, and in Anderegg's hands, it becomes a bravura encore.
Engineer extraordinaire Judith Sherman, working at the American Academy of Arts and Letters, has given the recording a luminous sheen in a program that many will want to explore again and again.
American Violin Concertos. Ittai Shapira, violin; Russian Philharmonic Orchestra, Thomas Sanderling, conductor; Royal Liverpool Philharmonic Orchestra, Neil Thomson, conductor. (Champs Hill Records, CHRCD053)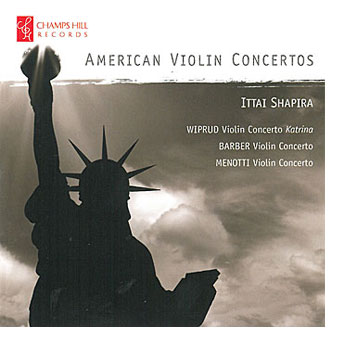 Gian Carlo Menotti's Violin Concerto in A Minor, written in 1952 for Efrem Zimbalist, may be unknown to most listeners, but violinist Ittai Shapira (Pre-College '90; B.M. '04, M.M. '06) makes a strong case for it. (Shapira's tone, from a Guadagnini instrument from 1745, is seductive on its own.) Thomas Sanderling leads the Russian Philharmonic Orchestra in the majestically conceived orchestral role, and Shapira's feel for Menotti's lush textures is always apparent. One highlight: the slow movement's cadenza, an idyll before the scampering finale. 
Theodore Wiprud wrote his Violin Concerto ("Katrina") for Shapira, who gave its premiere in 2011 with Lucas Richman and the Knoxville Symphony. On this recording, Neil Thompson conducts the Royal Liverpool Philharmonic Orchestra. In his liner notes, Wiprud reflects on the storm's impact on the region, which he calls "the cradle of so much American music." The first movement, "Les Bon Temps" ("The Good Times"), uses a ferocious orchestra that supports—and eventually overwhelms—the jazz-inflected violin role. "Acadiana," the central movement, uses an Acadian melody, "Disez Goodbye a Votre Mere," to evoke the desolation in the hurricane's wake, with harmonicas adding a plaintive, faux-accordion timbre to the texture. The finale uses the moving tune "I'll Fly Away," often heard at jazz funerals—generally notably festive occasions—to evoke a sense of triumph over adversity and loss. 
Shapira, again with Sanderling and his Russian colleagues, finds depth and tenderness—and in the final movement, wildness—in Barber's Violin Concerto. In the finale, instead of a high-speed chase that figures in most performances, Shapira opts for a more moderate tempo, which allows more of the composer's dazzling orchestration to emerge. 
The Menotti and Barber recordings (originally released on the ASV label) were engineered by Ljubov Doronina at a studio in Moscow, with resonance and spaciousness. Wiprud's opus was recorded by Andrew Mellor at the Friary in Liverpool with a closer sound than the other two concertos on the disc, but a similar sense of occasion.