Title
The Latest on Faculty, Staff, and Students December 2013-January 2014
Body
In April, trombone faculty member Per Brevig (Postgraduate Diploma '67, BM '68, DMA '71, trombone) was an adjudicator for the Koussevitzky Competition for Strings, which was sponsored by the Musicians Club of New York and held at the Liederkranz Club. First prize went to Ha Young Jung (MM '13, double bass), second prize to fourth-year master's student Tavi Ungerleider (B.C.J.E. '12, cello), and third prize to Katharyn Zinn (BM '10, violin).
In September the New York Concerti Sinfonietta, of which Evening Division faculty member Julie Jordan (MM '83, piano) is the founder and artistic director, performed with the winners of its Rocky Mountains Debuts program at Columbia University and at the Asian Cultural Center in New York City. Paul Hostetter (MM '89, percussion) conducted. Jordan and Hostetter will also perform and teach with the Sinfonietta in China from December 27 through January 4. 
In July, various members of the Juilliard community participated in the Perry-Mansfield Performing Arts School and Camp's centennial. Faculty member Linda Kent (BS '68) is the director of dance at the school, which is in Steamboat Springs, Colo. The performance featured a revival of Passings, which was choreographed by Robert Battle (BFA '94) for the school nearly 10 years ago; it was performed by Kent and second-years Cleo Person and Kyle Weiler. The program also included a commissioned work by Antonio Brown (BFA '07) called Breezes of Remembrance, work by Amy Hall Garner (BFA '99), and an excerpt from Paul Taylor's (BS '53) Esplanade. In October, Kent was honored by Carson Brierly Giffin Dance Library as one of the 2013 Living Legends of Dance at the University of Denver.
In October, piano faculty member Robert McDonald (MM '79, piano) gave a recital as part of the Marian Garcia piano master class competition and teachers workshop at Penn State's State College campus.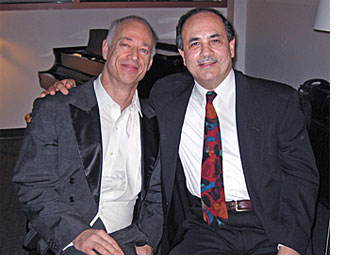 The Philadelphia Orchestra premiered a flute concerto it had commissioned from Behzad Ranjbaran (MM '88, DMA '92, composition; at right) in October. Yannick Nezet Seguin conducted and faculty member Jeffrey Khaner (BM '80, flute; at left), the orchestra's principal flutist, was the soloist. The concerto partly inspired by the sound and performance practices of Ney, the ancient Persian bamboo flute.
In November, Columbia University gave Jeffrey Milarsky (BM '88, MM '90, percussion), who's on the Juilliard and Columbia faculties, its annual Ditson Conductor's Award for distinguished contributions to American music.
In November, drama faculty member Moni Yakim directed the U.S. premiere of And Give Us the Shadows, by Swedish playwright Lars Nolen, at the Schoolhouse Theater in Croton Falls, N.Y.
STAFF
Jeffrey Cuyubamba, production designer for The Juilliard Journal, had several of his photos published in The Replacements: Waxed Up Hair and Painted Shoes—The Photographic History by Jim Walsh and Dennis Pernu, which was published by Voyageur Press in November.
In October, archives processing assistant Ray Iwazumi (Pre-College '94; BM '98, violin) completed a new critical edition of Wieniawski's Scherzo-Tarantella, Op. 16, for publisher G. Henle Verlag. Iwazumi also wrote an article for the publisher's official blog that discussed ideas contained in the primary sources of the Wieniawski piece.
STUDENTS
Artist Diploma in Opera Studies candidate Julia Bullock will perform a recital of songs by Verdi, Wolf, Messiaen, Rossini, and others, including the premiere of a work by David Hertzberg (BM '12, MM '13, composition), on March 11 at Merkin Concert Hall. Renate Rohlfing (MM '12, collaborative piano) will accompany her.
Playwriting student Branden Jacobs-Jenkins's An Octoroon will be performed at the Soho Repertory Theater in New York in April.
Third-year pianist Ji Yong Kim (Pre-College '09) will debut in the Young Concert Artists Series with a recital on December 10 at Merkin Concert Hall. He'll play works by Brahms, Ligeti, Schubert, and Schumann as well as two Bach-Busoni transcriptions.
In June, first-year jazz saxophone student Julian Lee received the 2013 Louis Armstrong Jazz Award at his graduation from Montclair (N.J.) High School.
In October, fourth-year cellist Julian Schwarz was the soloist with the Binghamton (N.Y.) Philharmonic Orchestra on Saint-Saëns's First Cello Concerto.