Title
Alumni Discs Explore Links Between Music, Mathematics, and Art
American Masterpieces for Solo Percussion. Tom Kolor, percussion. (Albany Records, TROY1471)
Body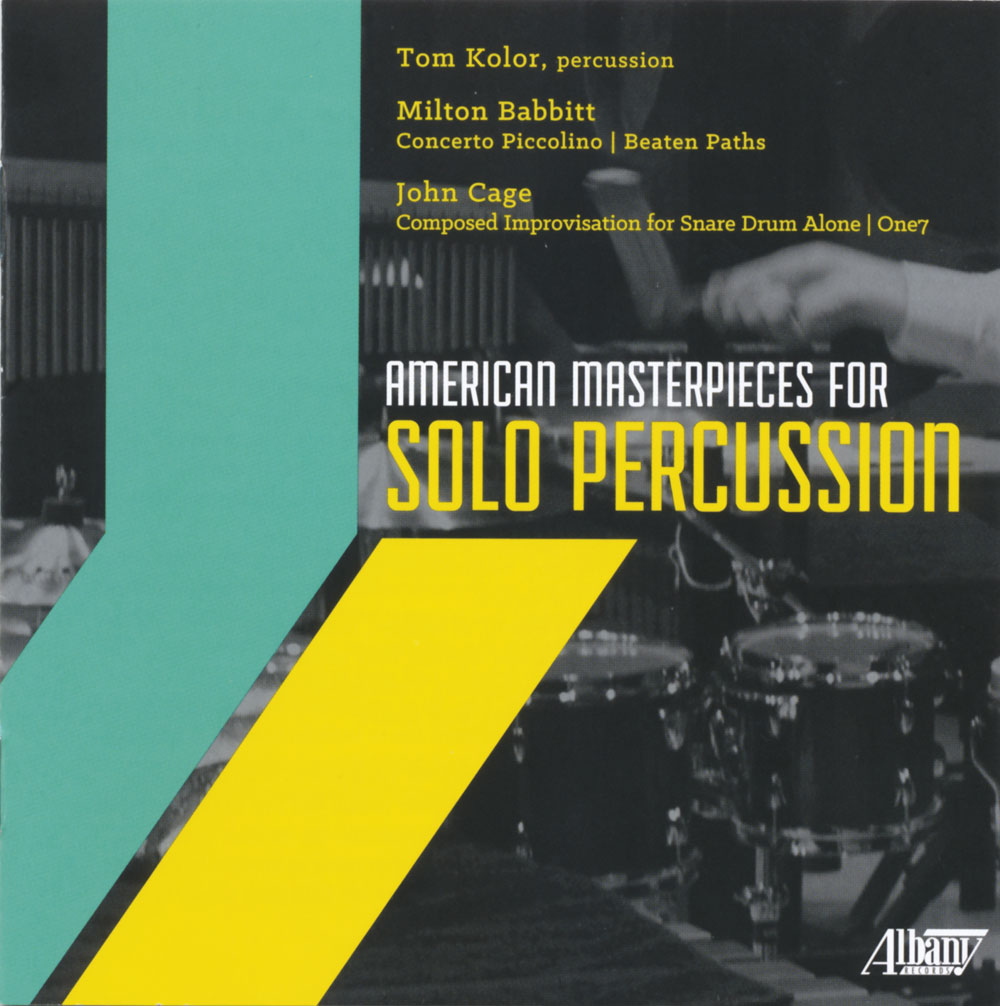 Mathematics and music often form tight bonds. On this disc, percussionist Tom Kolor (M.M. '97) chooses four works from the 1980s and 1990s that show a strong affinity for numbers—two each by Milton Babbitt (faculty 1971-2008) and John Cage. The works are unified by Kolor's ability to find expressive nuance within taut structures, and though the compositional methods are rigorous, his quiet acuity is omnipresent, along with flashes of playfulness, drama, and mystery.
Babbitt's Concerto Piccolino (1999) for vibraphone, scarcely four minutes long, is in 10 "macrophrases," each with different timbre, register, and texture instructions (for example, in No. 5, starting just after the one-minute mark: "alternating f and mp, all registers, medium/thick texture"). Equally concentrated is Beaten Paths (1988) for marimba, also in 10 sections, with similar directives that begin with the type of mallets to be used, e.g., "medium yarn, upper and middle registers, ppp-fff."
In Cage's brief Composed Improvisation for Snare Drum Alone (1987) Kolor finds unexpected timbres—and dry humor. The three sections contain between one and eight events, determined by chance, which specify both the number of attacks and type of tools, with each event having, per the composer's instructions, "not more than or not less than one to 64 attacks."
The longest work, Cage's One7 (originally scored for four players as Four6), instructs the player to choose 12 sounds that must begin and end within fixed time frames. Kolor's imaginative roster includes a large bass drum, bowed cymbal, Tibetan prayer bowl, bowed D-flat and B-flat marimba bars and rolled four-note marimba chord, plastic maraca, metal wind chimes, log drum, temple block, large cowbell, and Indonesian angklung (a tubular bamboo instrument). As the parade of sounds unfolds, a meditative mood ensues, and the unique qualities of each instrument emerge, helped by Cage's prototypical emphasis on silence.
The recording was made at the University of Buffalo, where Kolor is an assistant professor of music and directs the U.B. Percussion Ensemble. Christopher Jacobs recorded the disc at the school's Slee Hall, capturing all the subtleties of the often-quiet program.
Between the Kiss and the Chaos. Tracy Silverman, electric violin; The Calder Quartet. (Delos DE3439)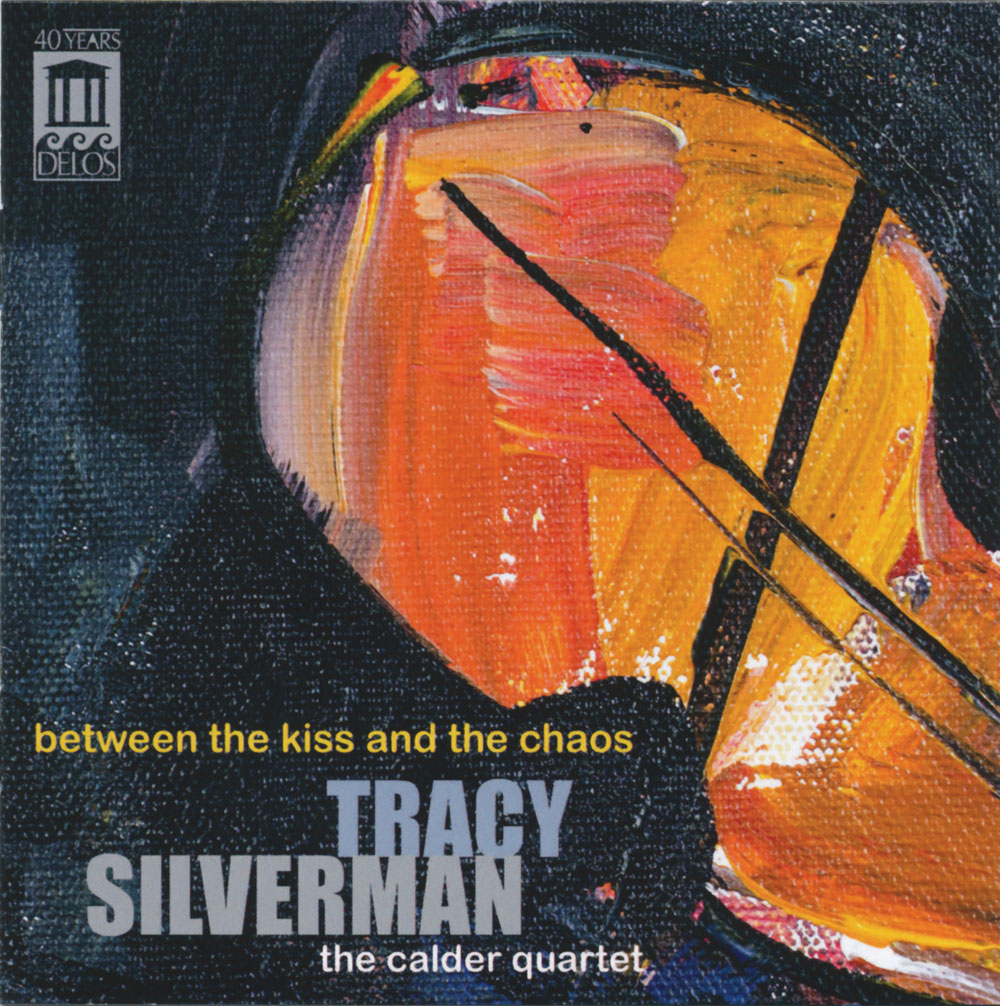 ​From Mussorgsky's Pictures at an Exhibition to Martinů's The Frescoes of Piero della Francesca and Schuller's Seven Studies on Themes of Paul Klee, composers have drawn on visual art for inspiration. Tracy Silverman (B.M. '80, violin) has written his second violin concerto—his own Pictures—titled Between the Kiss and the Chaos (2013), in five sections based on artworks by Michelangelo, Henri Matisse, Georgia O'Keeffe, Vincent van Gogh, and Pablo Picasso.
The original was for electric violin and orchestra, but in this chamber version, the Calder String Quartet, Juilliard's Graduate String Quartet in Residence from 2005 to 2007, makes a richly textured partner for Silverman's meditations. Sometimes, as in "Henri Matisse: La Danse," Silverman is able to virtuosically improvise with both himself and the ensemble.
In the fifth and longest section, "Picasso: Guernica," it's no accident that the 13 minutes becomes the heart of the "chaos" in Silverman's title (taken from one of his song lyrics from the 1990s). The Calders open with an ominous drone, as Silverman's violin line mimics the force of an electric guitar. As the quartet's throbbing beat grows more frenzied, Silverman's solos become faster, increasing until all five are silenced in the abrupt ending.
For those unfamiliar with a loop pedal, it can record a brief sequence, which can then be repeated while recording additional sound snippets, all of which can be manipulated to create layered, more complex textures. Silverman uses the device in the four-part Axis and Orbits (2013). The most ingenious parts are "Sacred Geometry," inspired by a chorus of crickets outside a performing arts center in Compos de Jordao, Brazil, and "Mojo Perpetuo," as restless as its title suggests.
Matthew Snyder and Joshua Steh recorded the Calders in Burbank, Calif.; Silverman's portions were made at GutLab in Nashville. Hank Williams (identified in the notes as "the other" Hank Williams) mixed the results to ensure the balances feel right.