Title
The Latest From Faculty, Staff, and Students Dec. 2016-Jan. 2017
♦ indicates performances that readers can attend or enjoy at home
Body
Faculty
Chamber music faculty member Audrey Axinn (MM '90, DMA '98, accompanying) taught a master class in collaborative piano at Oberlin Conservatory in October.
♦ Evening Division faculty member Conrad Cummings's Lamento del Barista—an homage to Monteverdi's Lamento della Ninfa for vocal quartet and piano that's set in Brooklyn—was commissioned by the music festival Five Borough Songbook. It will have its premiere on February 11 at the DiMenna Center; a CD release is also planned.
♦ Dance faculty member Susan Hamburger, who teaches stagecraft, designed the lighting for fellow faculty member Rosalind Newman, who created a show called Double Vision: Dances by Sue Bernhard and Rosalind Newman. It's at the University Settlement in New York City on December 2 and 3.
College and Pre-College violin faculty member Lewis Kaplan's (BS '58, MS '60, violin) new Bach Festival in Portland, Me., had a successful run this summer. Among the performers were Renée Jolles (Pre-College '84; BM '88, MM '89, violin) Ariadne Daskalakis ('89, violin), Yibin Li (Graduate Diploma '02, violin), Nicholas Cords ('94, viola), and cellist Beiliang Zhu (MM '11, historical performance) as well as faculty members Danielle Farina (viola), Emi Ferguson (BM '09, MM '12, flute; MM '11, historical performance), and Arthur Haas ('71, harpsichord).
In November, Jazz faculty member Frank Kimbrough's album Solstice was released by Pirouet Records.
In September, dance faculty member Joe Lanteri and his NYC Dance Alliance Foundation were honored with an award for his outstanding contribution to the world of dance by the Actors Fund and Career Transitions for Dancers.
In October, music faculty member Joel Sachs performed Brahms's Second Piano Concerto with the Doctors Orchestral Society of New York at Norman Thomas High School in Manhattan.
Pre-College composition and ear training faculty member Manuel Sosa (BM '91, MM '84, DMA '02, composition) wrote incidental music for Mercedes Gómez Benet's play La Conferencia del Doctor Oveja, which explores the difficulties of growing up with attention deficit disorder, and was premiered in Mexico City in September. In July, Sosa's Fabula I for three speaking voices had its premiere in New Smyrna Beach, Fla. In April and May, Sosa participated in In-Communication/In-Transit, a multimedia collaboration presented at Brooklyn Information and Culture (BRIC). Also in May, Sosa's Tractus III for solo alto flute was performed in Caracas, Venezuela, as part of the XIX Festival Latinoamericano de Música.
Graduate Studies faculty member Kent Tritle (BM '85, MM '88, organ; MM '87, choral conducting) will conduct the Oratorio Society of New York's annual Messiah at Carnegie Hall on December 21 with countertenor soloist Jakub Jósef Orlinski, a Graduate Diploma candidate, and tenor William Ferguson (BM '99, MM '01, voice).
In October, the Cincinnati Symphony presented a new multimedia production of Maurice Maeterlinck's play Pelléas et Mélisande accompanied by Fauré's incidental music. The text was translated by opera faculty member Stephen Wadsworth; mezzo-soprano Naomi O'Connell (MM '10, voice, Artist Diploma '12, opera studies) was Mélisande, and Adam Greer (Group 27) was Golaud. The production was directed by James Darrah, who also directed Juilliard Opera's production of Jonathan Dove's Flight in November.
♦ Evening Division faculty member Dalit Warshaw (MM '97, DMA '03, composition) will give the world premiere of her piece Farewells as part of the Here and Now Winter Festival at Bargemusic from January 4 through 6. Responses for orchestra, an orchestration of her 2013 piano suite, was given its premiere by the Bowling Green Philharmonia at Bowling Green State University in October. In November, Warshaw's pieces Desert Call, First Love Song—which she performed at the piano—and Stories for Strings were presented at La Maison Française at N.Y.U.
Flute faculty member Carol Wincenc (MM '72, flute) has completed an all-Uebayashi recording with Stephen Gosling (BM '93, MM '94, DMA '00, piano), her former student Tanya Dusevic Witek (MM '95, DMA '00, flute), and the Escher String Quartet, which includes violinists Adam Barnett-Hart (BM '04) and Aaron Boyd (BM '00) as well as Brook Speltz ('12, cello). The recording is scheduled to be released in 2017.
Students
In July, fourth-year cellist Benjamin Fryxell and Conor Hanick (MM '08, DMA '13, piano) were among the performers in the West Coast premiere of Justin Merritt's Ithaka for violin, clarinet, cello, piano, and narrator at the Music Academy of the West.
Artist Diploma candidate Bomsori Kim (MM '16, violin) won second prize in Poland's Wieniawski Competition, which was held in October. Fifth prize was awarded to Richard Lin (MM '15, violin).
Third-year actor Nick Podany released a video of his song "We'll Try It Again" this fall; it was directed by Gui Pereira.
First-year pianist Ruobing Zhang is performing in the 2017 North American Universities Lunar New Year Gala in Alice Tully Hall on January 21.
New York City Marathon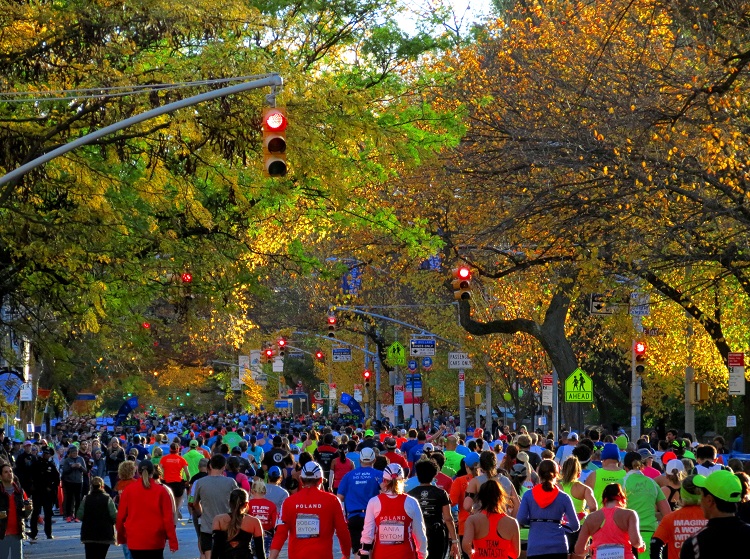 Ann Marie Brink (MM '98, viola); Yumi Cho (Barnard-Columbia-Juilliard Exchange '03, MM '05, violin); Lori Padua, director of planned giving; Todd Porter, director of residence life; Emilia Tamburri (MM '09, composition), administrative assistant for the Alan D. Marks Center for Career Services and Entrepreneurship; and Emily Wells, associate director of Vocal Arts, all ran the New York City Marathon. Congratulations! (Photo by Keith Michael, Dance Division production coordinator)