Title
The Latest on Faculty, Staff, and Students September 2013
Body
The New York Festival of Song's 25th-anniversary celebration, in May at the DiMenna Center for Classical Music, included performances by faculty member Steven Blier, NYFOS's co-artistic director,  as well as by Vocal Arts alums Jennifer Aylmer ('97), Kyle Bielfield (MM '13), Sari Gruber (MM '95), Nathan Haller (BM '13), James Martin (MM '95), first-year master's student Miles Mykkanen (BM '13), Philip Stoddard (BM '13), and Leo Radosavljevic (MM '13).
Jazz faculty member Kenny Barron received an honorary doctorate in June from his alma mater, Empire State College.  
In April, Dance faculty member Janis Brenner's company performed at Jefferson's Ferry on Long Island. Also that month, it performed the new Where-How-Why Trilogy at Gina Gibney Dance Center in Manhattan; company members Kyla Barkin, Aaron Selissen and Esme Boyce (BFA '09) showed new works in progress as part of an open forum for exploration and feedback.
In May, the Strathmere Festival Orchestra played a Haydn concert under music director Per Brevig (Diploma '67, BM '68, DMA '71, trombone) with soloists Mitsuru Tsubota, Daire Fitzgerald (Certificate '91, cello), Gerard Reuter (Pre-College '68; '72, oboe), and Richard Vrotney ('66, bassoon) at New York City's Church of St. Joseph's.  
In April at the 92nd Street Y, the Young People's Chorus of New York City gave the world premieres of four newly commissioned pieces of music including Celestial Fire by Music Theory and Analysis faculty member Thomas Cabaniss. 
Initiated in 2012, The Set Up is a three-year project devised by choreographer and Dance faculty member Wally Cardona in collaboration with choreographer Jennifer Lacey. The third installment of the eight-part series, The Set Up: Jean-Christophe Paré, began in Paris with French Baroque dancer Jean-Christophe Paré and was presented in July at the River To River Festival in New York City. Each Set Up begins with an invitation to one master artist to teach what they think is most important about the form to which they have devoted their lives. In 2015, after completing the eight installments, Cardona and Lacey will begin the project's final phase, creating an evening-length work in response to their experience. An interview with Cardona about the project is on dancemagazine.com.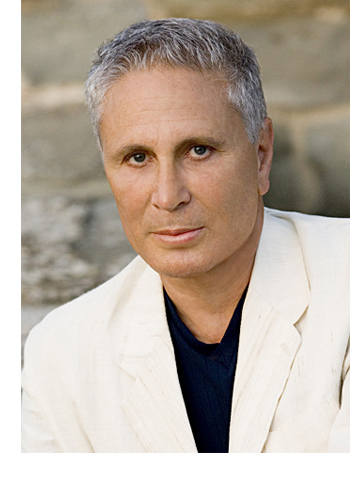 In May, composition faculty member John Corigliano (pictured) received an honorary Doctorate of Music from the University of Hartford.
Drama faculty member Christopher Durang's Vanya and Sonia and Masha and Spike received a Tony Award for best play. 
The Juilliard String Quartet, whose members are Joseph Lin (Pre-College '96), Ronald Copes, Samuel Rhodes, and Joel Krosnick, received the John Erskine Faculty Prize to support its recording of the Fifth Quartet by Elliott Carter (faculty 1966-84). The J.S.Q. recorded the first four of Carter's string quartets and completed the recording of this last one prior to Rhodes's retirement this summer.
In May, Evening Division faculty member Daniel Ott (MM '99, DMA '04, composition) was one of two recipients of a Goddard Lieberson Fellowship from the American Academy of Arts and Sciences.
College and Pre-College faculty member Noam Sivan (D.M.A. '10, composition) gave a lecture-recital on the Art of Improvisation in July as part of the International Keyboard Institute and Festival at Mannes.
At the Early Music America's Baroque competition in October at Corpus Christi Church, the Sebastians, which includes Historical Performance faculty member Avi Stein and Ezra Seltzer (Graduate Diploma '11, historical performance), received the audience prize. The grand prize went to Pallade Musica, which includes Elinor Frey (MM '05, cello). Among the judges was H.P. faculty member Sandra Miller.  
In July, Kent Tritle (B.M. '85, M.M. '88, organ; M.M. '87, choral conducting) conducted the recording of Juraj Filas's requiem, Oratio Spei, which is dedicated to the victims of the September 11, 2001, attacks. He made the recording in Prague with the Prague Symphony Orchestra, soprano Ana María Martínez (BM '93, MM '95), and other soloists. The goal of this New York-based Harmony Foundation-sponsored recording is to ask radio stations around the world to air it on September 11, 2013, and every succeeding anniversary of the attacks.
Dance faculty member Bill Young co-presented an evening of dance called A Place in France in May in SoHo.  
STAFF
Juilliard Journal production designer Jeffrey Cuyubamba had an exhibition of his photographs, New Yorkers and Cats, in Kobe, Japan, in July. Left: One of the the photos from the exhibit.
Keith Michael, the production coordinator of the Dance Division, has published a book of his bird writing and photograph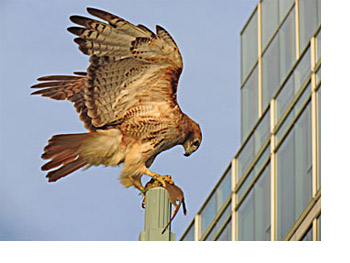 s (one of which appears here) called Once Around the Block: A Birder's Year in the West Village. It's available at blurb.com.
Bärli Nugent (BM '76, MM '77, flute), an assistant dean and the director of chamber music, and faculty member Donald Weilerstein (BM '63, MS '66, violin) were on the jury of the Fischoff Chamber Music Competition at Notre Dame University in May. 
President Joseph Polisi gave the graduation address at the Frank Sinatra School of the Arts, a high school in Astoria, in June.
STUDENTS
Guitarists Bokyung Byun (third-year), Pierre Ferreyra-Mansilla (fourth-year), and Ty Zhang (second-year), all students of Sharon Isbin, performed on WQXR's Young Artists Showcase in June. Byun also performed on NPR's From the Top in March.
Pre-College violinist Qing Yu Chen received the best actress award from the School of Visual Arts Short Film Fest. The film, A Little Violinist, screened in May. Of the five nominees (out of 14 films),  Chen was the only who isn't a professional actor. 
Second-year master's violinist Nikki Chooi came in first in the Michael Hill International Violin Competition in Auckland, New Zealand. In addition to a cash prize, he receives an Atoll recording contract, a tour with Chamber Music New Zealand, and performances with Harris Theater in Chicago and Musica Viva in Australia.
Abigail Elder, a second-year violist, organized a music fashion show in which 24 of her classmates (string players, composers, a trombonist, a flutist, an oboist, vocalists, jazz students, and pianists) performed in May at the Dicapo Opera Theater. The performance was a benefit for the Opportunity Music Project, a nonprofit founded by Jessica Garand (MM '12, viola) that provides tuition-free private music lessons, mentoring, chamber music, and community engagement to underserved children and teens.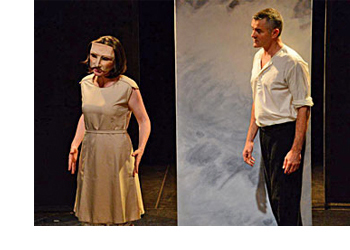 The Island of the Seven Sisters, an opera by doctoral composition student Evan Fein (MM '09, composition) had its world premiere in Moulins, France, in July, and was also performed in Carnac, France, in August. It will be performed at the Théâtre Adyar in Paris on October 18. The libretto is by Emily Anderson and it was commissioned by Opéra de Poche. Right: Lucie Mouscadet and Arnaud le Dû performed in the opera.
Doctoral candidate Paul Frucht (MM '13, composition) wrote a piece called Dawn in honor of Dawn Hochsprung, who was slain with 25 of her students and staff members when a gunman opened fire at the Newton (Conn.) school of which she was principal. Frucht grew up in Newtown and Hochsprung's husband was one of his teachers. Dawn was premiered at Juilliard in April by Chelsea Starbuck Smith (Pre-College '10), who went to preschool in Newtown and grew up in nearby Redding; second-year master's clarinetist Jonathan Cohen; Patrick Hopkins (Pre-College '09; BM '13, cello); second-year master's flutist Daniel James; and Gwenllian Llyr (MM '13, harp). 
Pre-College student Beka Gochiashvili, who studies jazz piano with Frank Kimbrough, played in a Jazz at Lincoln Center festival presented by Chick Corea ('61, piano) in May. The ensemble included, among others, Marcus Gilmore, a 1999 percussion alum of Juilliard's Music Advancement Program.
In March, fourth-year violinist Joo Eun (June) Lee, received an honorable mention award in the Pearl and Julius Young Music Competition, sponsored by the Baroque Orchestra of New Jersey.  
Elizabeth Lim, a doctoral student in composition, won second prize in North Dakota State University's Edwin Fissinger Choral Competition in June.
In March, fourth-year bachelor's violist Matthew Lipman won third prize at the Lionel Tertis International Viola Competition in Port Erin, Isle of Man, U.K. 
Fourth-year piano student Llewellyn Sanchez-Werner was one of two winners of the Gilmore Young Artist Award, it was announced in August. The prize, given every two years to outstanding pianists under 25 (he's 16), includes a cash award, a piece commissioned for the artist, and an appearance at the 2014 Irving S. Gilmore International Piano Festival in Michigan.
Second-year master's student Patrick McGuire (BM '12, cello) received a Department of State Critical Language Scholarship to study Arabic in Morocco over the summer.
In June, Jazz Studies students Sammy Miller (percussion), Adam Moezinia (guitar), and Alphonso Horne (trumpet); plus Paul Sikivie (MM '09, bass) and saxist Ben Flocks performed the music of drum legend Shelly Manne at a Late Night Sessions show at Jazz at Lincoln Center's Dizzy's Club Coca-Cola. 
Second year master's pianist Sejoon Park was the winner of the 2013 King Award for Young Artists National Music Competition, held in Salina, Kan. Park will solo with the Salina Symphony in October.
In May, piano Artist Diploma candidate Louis Schwizgebel was one of three Young Concert Artist soloists to perform at Alice Tully Hall with the Orchestra of St. Luke's. 
In June, Barnard-Columbia-Juilliard Exchange student Conrad Tao (Pre-College '11) celebrated his 19th birthday by curating the three-day Unplay Festival at Brooklyn's Powerhouse Arena. Among the composers whose works were played were Tao, Jakub Ciupinski (MM '08, composition), and David Lang ('74, percussion). Tao's album Voyages (EMI Classics) was also released. It features Tao playing piano works by Ravel, Rachmaninoff, and Meredith Monk, as well as his own vestiges, for solo piano, and iridescence, for piano and iPad.