Title
Dreaming Forward on a Day of Celebration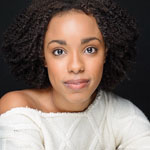 Juilliard honored the birthday and legacy of Martin Luther King Jr. with a week of activities including service projects, lectures, a panel discussion, a teach-in, and a talk about arts and civil rights by Khalil Gibran Muhammad, the director of the Schomburg Center for Research in Black Culture. The commemoration kicked off with an evening of performances with the title Dream Forward. One of those performances was spearheaded by fourth-year actor Jasmine Batchelor, who was one of eight members of the M.L.K. Celebration planning committee. She wrote about her busy Martin Luther King Day. (Left: Photo by Eve Reinhardt Photography.)
Body
12:22 a.m. I'm going over the arrangements for the all-female rendition of "Berta, Berta," an old prison work song that's most known for its appearance in August Wilson's The Piano Lesson. I've had the idea to create a female-point-of-view version of it since Trayvon Martin was shot, in 2012—and now it's going to be part of the M.L.K. Celebration. I'd imagined four women, all in mourning clothes, singing a song usually sung by black men. They're singing this song because there are no more men to sing it, singing while their legacy disappears before their very eyes. My fellow actors Medina Senghore (second-year), Brittany Bradford (first-year), and Chelsea Williams (third-year) have graciously agreed to be a part of the chorus with me, and we think the brilliance of fourth-year dancers Jeffery Duffy and Alex Jones will fill the piece with the kind of symbolism we need to really reach people. I can't wait to share it. But first—how to figure out this rhythm section! Two claps here, one stomp there.
9:10 a.m. Even though I don't have rehearsal until noon, I should get up and out of bed. I have a cat, Rajah (yes, Aladdin reference—sue me) to feed, plus breakfast and lunch and dinner to make, and then an hourlong train ride from Brooklyn to Juilliard. Let's do this! But not til after I've written down this quote from Martin Luther King Jr.: "There are some things so dear, some things so precious, some things so eternally true, that they are worth dying for. And I submit to you that if a man has not discovered something that he will die for, he isn't fit to live."
11:50 a.m. I'm about to enter a six-hour rehearsal for Metamorphoses [the fourth-year rep play], and I've gotta warm up my arms and legs—it's gonna be a physically challenging day! I've been learning to climb ropes for a character named Hunger, which seems pretty simple, but is the exact opposite. There are a lot of muscle groups involved in pulling your entire body's weight 10 to 15 feet above the ground—not to mention doing it at a pace that's not boring to the audience—I guess that's where acting comes in! Jokes. But really, some of the movement is pretty tough stuff. Hopefully after stretching out my body, I'll be ready to rock. Hunger "flies through the air" according to the text, so I'm doing my best to follow her lead.
1:40 p.m. I'm on a 10-minute break from rehearsal, and I think I've figured out how to give sound to the struggle in our "Berta, Berta" stomping. I text the girls to update them, and then break's up, so I grab some almonds to keep me awake—and because I'm a grazer, as they say.
5:26 p.m. Moni Yakim, our director for Metamorphoses, released some of the cast so that he could work on a smaller scene, and as a result, I have more time than I thought to get prepped for the M.L.K. Celebration. Just as well, since it starts in two hours! I've gotta steam my voice, put on my makeup and costume, and do some Alexander Technique before heading downstairs to warm up in Paul Hall. Juilliard has taught me well— preparation is half of an artist's job. Perhaps even 90 percent.
7:15 p.m. I'm so grateful for my cast and the committee of the event this year, as well as everyone who's participated in it. I think about how incredible each of the six pieces is and I'm so glad I know these insightful and passionate artists. As I'm waiting in Room 102, I hear my fellow fourth-year Justin Mark practicing his Robert F. Kennedy speech—the one Kennedy gave after King's assassination, and just two months before Kennedy's own. Just hearing it in the hallway gives me chills. Something is in the air tonight. I have a feeling we are on the right path in honoring King and his message, as well as the movement and the need to change the current state of civil rights in our country.
8:53 p.m. Celebration complete! I think we really reached people in the best way—Joan Warren [vice president for enrollment management and student development] said it was the best performance yet. I'm so happy about all the support and assistance of the Drama Division and the administration—it's great to see so many of them here, from the president and dean on down—but I'm most happy about the joy in my heart. Every detail and moment felt so alive—from the way we walked out to the dance created by Alex and Jeffery to the stomps—they felt real, spontaneous, and born of the circumstances of the piece: That's what making theater should feel like. Like making change. I feel like something changed in our community, and I can't wait to see where we go from here. Forward!